How to know my email's spam score before sending
The Mailing spam Check software rates your emails and analyzes the email content spam score. MailingCheck program executable incorporates all the common server side SpamAssassin anti spam test rules that you need to respect in order to go straight to your customer's inbox (you know that optimize for inbox is very important)
Installing the software
Donwload the free spam check software here
Double click on MailingCheck.msi icon and run Setup. Follow the wizard to install the free standalone spam rate check software.
Free spam check: running the free email spam test

You should run the email spam check tool double-clicking on its executable file mailingcheck.exe. After the installation process you will find as usual a Mailing Check icon inside Windows Start Menu
How to use our free spam check software
Compose your message using your favourite e-mail client; do not forget to include the Subject, the HTML and text part, etc. Please note that it is very important that MailingCheck scans a complete email message (not just a draft!), so that you are testing exactly what will be mailed to your list. Ideally, the spam check rate level detected from MailingCheck should be the last thing before sending your email out.
Once you're finished, save the email message as an .eml file (which is a public format supported by many email clients, including Microsoft Outlook Express and Mozilla Thunderbird)
Launch MailingCheck, select Check tab and select the email.eml file you just saved
Click on Check now! button to start the analyzing test of your email.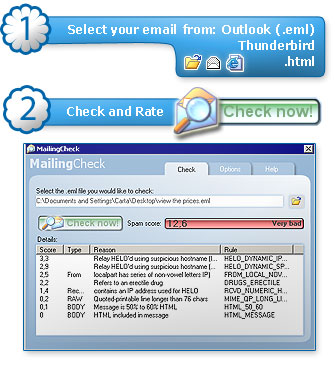 The integrated SpamAssassin engine performs a large set of tests, named Rules, on your email message, and after a few seconds the mailing check software analyzes your email and returns a spam score rate, along with a list of spam rules which failed, sorted by relevance (each failed spam rule has its own spam score, so that you can easily see how much each problem is contributing to the global spam score rate). Please note that, while hundreds of tests are performed, only failed ones are shown (some of them may return a 0.0 score even if they failed, according to SpamAssassin engine's current test settings).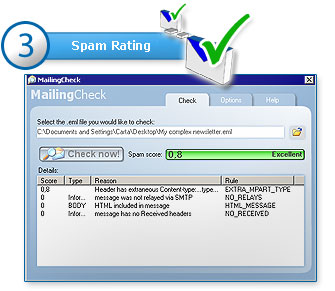 Now that your Email has been tested and has it's own spam score (or rate) read the reason column to know how to remove the spam rate source from your email. After you edited the email you can run the test and check it again, util it scores "Excellent". This is the best way to go to inbox… but now begins the difficult part: you should write something that's really interesting and useful for your readers.
Why we make an absolutely free mailing spam check software?
We're constantly developing our bulk email sender software (SendBlaster) . One day we thought that could be useful for our customers to have a separate utility to check and test their email for spam rates before they actually send the emails (client side) and before they got caught by mistake into the spam filters. The next step was integrating the spam rule checker into our mass mailer software. Since SpamAssassin is a great open source software, and we support open source, we released the free version of mailing check. If you missed it, it can be dowloaded from here.
How about Gmail homemade spam filter?
take a look here for some hints to build your home made spam filter.
Check why your email goes to spam folder
download for free here the MailingCheck free spam rating software
(please notiche that you will need SendBlaster installed too)