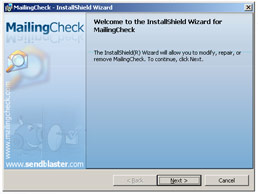 Free download email spam check software

We got a brand new installation setup for MailingCheck software.
Hot Features
Absolutely free software download
Email content spam checker
Email spam rate points result
Customizable spam point ranges
SpamAssassin engine included
Email spam cleaning suggestions included
Razor Engine included
SURBL blacklists included
Can check emails for spam rates before sending
Grows bulk email inbox rate
Best offline email spam detection tool
Now you can install our little email spam scoring software without the need of SendBlaster (anyway, you can try the bulk emailer free version). Find and clean your email spam source, oh yeah!