If you use MailingCheck program on your mailing list email message before sending, the email will be probably sent to everybody maximizing the inbox rate.
We developed a bulk email software to let you complete the next part of the email marketing chain: mass email sending with personalized email content and subject.
Import mailing list data from Outlook, Excel and Access (via CSV)
Import directly from Outlook Express contacts
Automate email sending
Personalize each email content and subject
Remove boucebacks from mailing list
Manage Subscriptions and Unsubscriptions
Add new mailing list members via website form mail
Pause and Replay sending
Autocomplete interrupted mailings
Duplicate sends control
Manage blacklists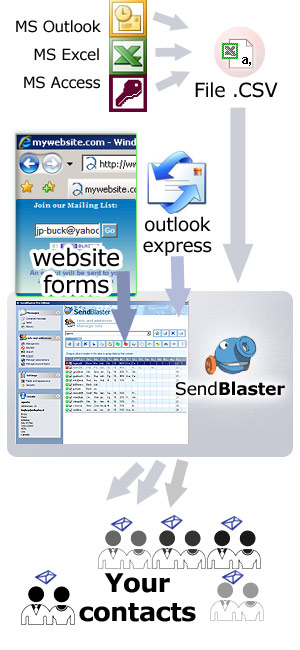 If you are new to email marketing, maybe you need a complete all-in-one solution, an automated email sender and a bulk email mailing list manager, you can try SendBlaster, our mailing list manager and mass email sender engine, all in a simple desktop software. It works great with MailingCheck:

SendBlaster is a mailing list manager that will let you communicate with your customers and friends by creating and sending customized e-mails using your database (.mdb) and integrating with your web site mailing list.
SendBlaster never sends the same email twice: featuring our SmartSend Engine.
Starting your professional e-mail marketing campaign is a matter of minutes with SendBlaster (yes we have a downloadable Free Edition too)
Compose your message or choose a template
Import your existing contact list or create it from scratch
Merge your customer information in the email text and subject
Send out your mailing
SendBlaster is 3 tools in 1:
a composer (which comes with plenty of pre-made templates);
a powerful mailing lists manager: filters and organize your mailing list database ;
a fast email blast software and bulk e-mail sender with merging functionalities (dear Mr. Smith instead of Dear Customer)

Import to SendBlaster your Optin- subscription mailing list.
You will be able to send every email with a different customization… and all from your computer!
Since SendBlaster is a bulk emailer desktop software, there will never be recurring fees… or maximum number of sent email blast.
*Please note that the free version of SendBlaster Bulk emailer sends up to 100 emails, for unlimited sends check the PRO version.
Sendblaster in the world

www.sendblaster.cz (ceština)



www.sendblaster.dk (dansk)



www.sendblaster.de (deutsch)



www.sendblaster.nl (dutch)



www.sendblaster.com (english global)



www.sendblaster.co.uk (english UK)



www.sendblaster.es (español)



www.sendblaster.fr (français)



www.sendblaster.it (italiano)



www.sendblaster.hu (magyar)



www.sendblaster.pt (português)



www.sendblaster.ro (român)